MWWPR Ranked as the Top Public Relations Firm in New Jersey in the NJBIZ 2018 Reader Rankings
MWWPR Ranked as the Top Public Relations Firm in New Jersey in the NJBIZ 2018 Reader Rankings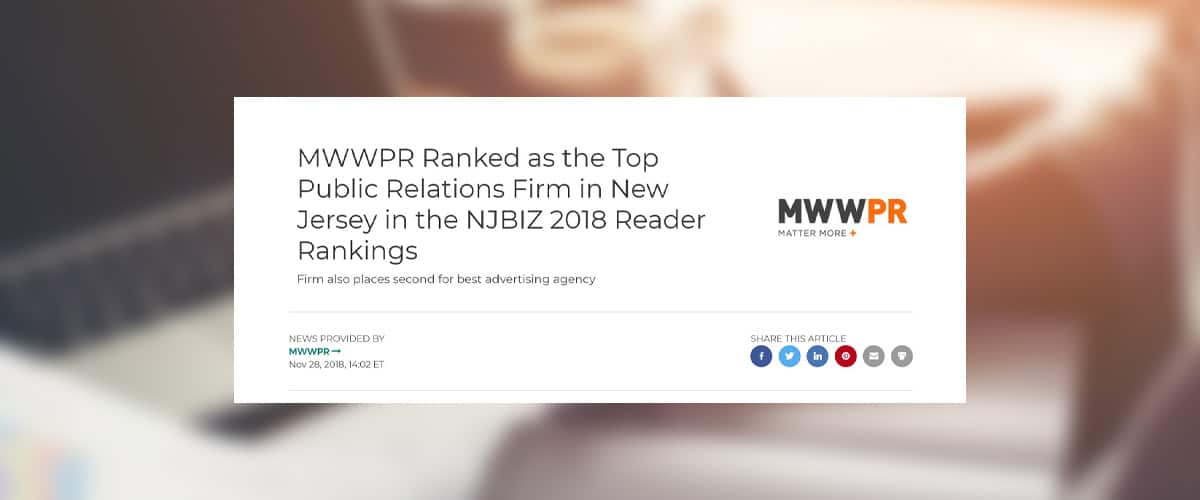 Firm also places second for best advertising agency
EAST RUTHERFORD, N.J., Nov. 28, 2018 u2013 MWWPR has been named the top public relations agency in New Jersey according to the recently released 'Reader Rankings' by NJBIZ Magazine. MWWPR was also recognized as one of the top advertising agencies in New Jersey.
Over 8000 clients, colleagues and peers of businesses in New Jersey voted for the best organizations across 52 categories. According to NJBIZ, 'What makes the companies listed here distinct is the devotion they inspire among our region's business leaders.'
MWWPR has been nationally and internationally recognized for its unique 'people-first, client-centric' viewpoint that yields truly integrated work. The agency invests in a digitally-led, content driven approach across a diverse array of practice areas.
'Thirty-two years ago, I had a crazy idea, start a global public relations firm in New Jersey. People said it was impossible, but I knew all the advantages that this state had to offer. So, we opened our first office in 1986 in Jersey City and have now have been calling East Rutherford our home for more than 20 years. During that time, we have worked hard to be an important part of the fabric and culture of New Jersey,' said MWWPR Founder and CEO Michael Kempner. 'More than 3 decades later, MWWPR has grown into one of the largest and most respected public relations and marketing firms in the New Jersey and the world. It's particularly gratifying to see that our efforts have been recognized by our clients, peers, and fellow New Jersey business leaders.'
ABOUT MWWPR
Thirty-two-years young, MWWPR has gone from one employee in one room with one client to among the world's leading independent, integrated PR agencies with nine offices across the US and the UK. Guided by data and powered by insights, intellect and human instincts, we uniquely deliver on a people-first, client-centric promise that leans heavily into a digitally-led, content-driven approach. Our mission is to get to the heart of the matter: igniting influence and impact to help organizations matter more to those who matter most. Our expertise spans Consumer Lifestyle Marketing, Corporate Communications and Reputation Management, Public Affairs, Crisis and Issues Management, Media, Technology, Fintech and Telecoms. Visit www.www.mww.com or follow us @MWW_PR to learn more.
ABOUT NJBIZ
NJBIZ, New Jersey's leading business journal, produces a weekly print edition with a circulation of more than 15,000 copies, as well as providing 24/7 business news coverage through its NJBIZ.com website and multiple daily e-newsletters. The publication, founded in 1987 and based in the Somerset section of Franklin Township, is also well-known throughout the state for its events honoring New Jersey's top business professionals. It is owned by BridgeTower Media, the leading provider of business-to-business information, research and marketing solutions across more than 20 local economies in the U.S. The publication uses the following technique of offering uniquely client centric services through truly integrated work. True integration, unique collaboration