MWW's Guide to Navigating Tech PR
MWW's Guide to Navigating Tech PR

During the early days of the internet, tech media outlets were considered niche and catered mostly to DIY developers and the Silicon Valley crowd. Today, every major news publication has a dedicated tech reporting team, with coverage spanning biotech and healthcare to cryptocurrency and virtual reality.
The widespread adoption of social media has exploded tech media's reach and influence over global audiences. Big Tech stories now dominate news circuits, leaving little to no room for up-and-coming businesses to gain coverage.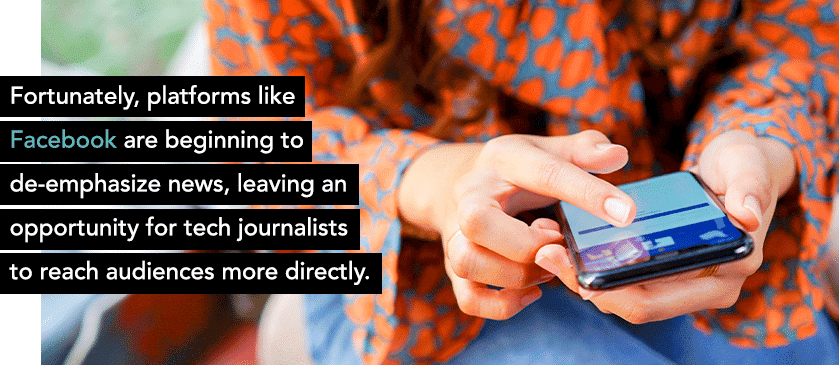 Whether you're a startup eager to make a splash ahead of a big launch or an established company hoping to drum up new interest, having good public relations is critical for cementing your name in the minds of readers and reporters. Let's explore how to navigate the evolving tech media landscape in your tech PR strategy.
What to do When Elon Musk Steals Your Headlines
SpaceX launches a new fleet of satellites. Tesla's amphibious Cybertruck is slated for production. Elon Musk sues Twitter. Then, just when you think it's safe to pitch your product launch story–boom. Another tech tycoon gets embroiled in a scandal and suddenly your journalist contacts can't be bothered.
Headlines like these can disrupt the news cycles for tech PR professionals, and they're becoming more difficult to avoid as public attention focuses on top CEOs. It can be extremely disheartening to put together a comprehensive PR campaign centered around a client event only to be overshadowed by breaking news.
The important thing to remember here is that news cycles live forever online and you're just one Google search away from being rediscovered. Your message is important. There are more opportunities for impactful exposure outside of tier-one press, and while you probably won't be able to compete with a front-page Elon Musk exclusive, you shouldn't lose focus. Here are five effective tech PR strategies to consider..
Five Tech PR Strategies to Beat Competitors with Share of Coverage
1. Expand Your Range
Everyone wants to see their story in The New York Times–who wouldn't? But the fact is, even with the most well-connected PR team, tier-one publications aren't interested in your tech brand's successful round of funding. These reporters are looking for hard-hitting global stories that resonate with a broader audience. That's not to say that you should avoid pitching to these publications altogether, but you shouldn't discount smaller outlets.
High authority tech journals and trade publications-TechCrunch, ReadWrite, InfoWorld, and TNW for example–are great places to pitch your story. These outlets have a large readership with dedicated audiences who have a genuine interest in what you have to say. Companies trying to find their footing should focus on building a base of small wins within this community to gradually build industry authority.
Not only does this type of press grant you exposure to niche audiences–Google consistently rewards this type of short-form reporting. Leveraging high authority news sites' SEO optimized platforms will increase your chances of earned media attention.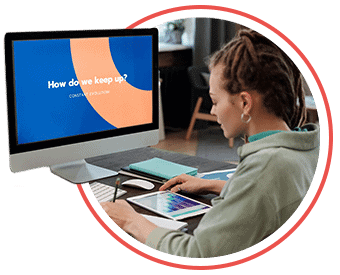 Your tech PR strategy should include plans for SEO content that can help get you ranked.
2. Offer Added Value
People in news media are pitched hundreds of times a day–often from companies just like yours, with stories just like yours. Out of all these pitches, why should they choose you? Because you provide added value.
Staying on top of industry trends is the first step. The next step is inserting yourself into the conversation with a fresh perspective. For the same reasons customers want to see the value of your product before purchasing, reporters want to see the value of your voice before publishing. Is there a hot topic you have expert insight into? Does your product solve a pressing industry issue? Do your founders have something to say about a new acquisition? The best report for busy journalists includes data, personal and customer testimonials, forward looking predictions and meaningful conclusions and comparisons in the industry that can spark thought and conversation.
Offering a unique, even controversial opinion allows you to be a part of a broader conversation. And if you do it right, journalists will consider you a viable resource for future content.
3. Promote Your People to Promote Your Brand
Remember, this is not product marketing-this is public relations.
Especially for emerging brands, leading with your people and their expertise and passion will improve positive awareness for your brand and will help you forge deeper connections than dropping a company name ever could.
Leverage your founders in press releases, interviews, industry resource commentary and thought leadership perspectives about the future or a pressing challenge. Highlight employee experiences on social media and designate executives as storytelling leaders to communicate brand mission, values, and goals. Not only does employer branding help you humanize your brand, it presents opportunities for earned media exposure–the kind of prized press coverage you can't buy.
4. Don't Skip the Conferences
Like many other events, tradeshows and conferences were either canceled, postponed, or moved online during the start of the pandemic. The time away from crowded seminar rooms and bustling cocktail hours has caused many companies to reconsider their return.
So, are tech conferences still worth the time and money? In short–yes. Virtual or not, conferences remain one of the top networking opportunities for tech startups. Events enable companies to get an inside look at industry innovations, join pivotal conversations, and test out product messaging.
If your team is slated to attend an event, make sure you have a solid plan of action. Talk to your C-Suite about conference goals and KPIs. Gather the right mix of employees to represent your brand, including communications personnel. Most importantly, make your presence known.
5. Pick the Right PR Team
Whether you hire in-house PR specialists or choose to work with a PR agency, having the right tech PR team executing your strategy is essential for your long-term success.
When deciding which team to work with, don't assume that the first PR professional who crosses your path is your best option. While being well-connected is important for good PR, it isn't everything. You want to work with a team who has a deep understanding of the tech industry–even better, work with a team who has experience in your industry vertical.
Spend time vetting all options thoroughly and ensuring your partner fits with the character and culture of your company.
We Are Tech PR
Your PR strategy is only as good as your PR team. MikeWorldWide has helped technology brands working in SaaS, B2B, enterprise, cloud security, fintech, venture-backed start-ups, media, and consumer technology elevate their corporate influence and connect with diverse audiences.
Our team of seasoned PR experts understand how to elevate a brand within the realm of business press and tech media, and can help you navigate your online digital presence confidently. Connect with our team to start drafting your winning PR strategy today.