National Study Reveals CorpSumers™ Favor Brands with Purpose This Holiday Shopping Season: Brand Values Cited as More Important Than Having the Best Deals
National Study Reveals CorpSumers™ Favor Brands with Purpose This Holiday Shopping Season: Brand Values Cited as More Important Than Having the Best Deals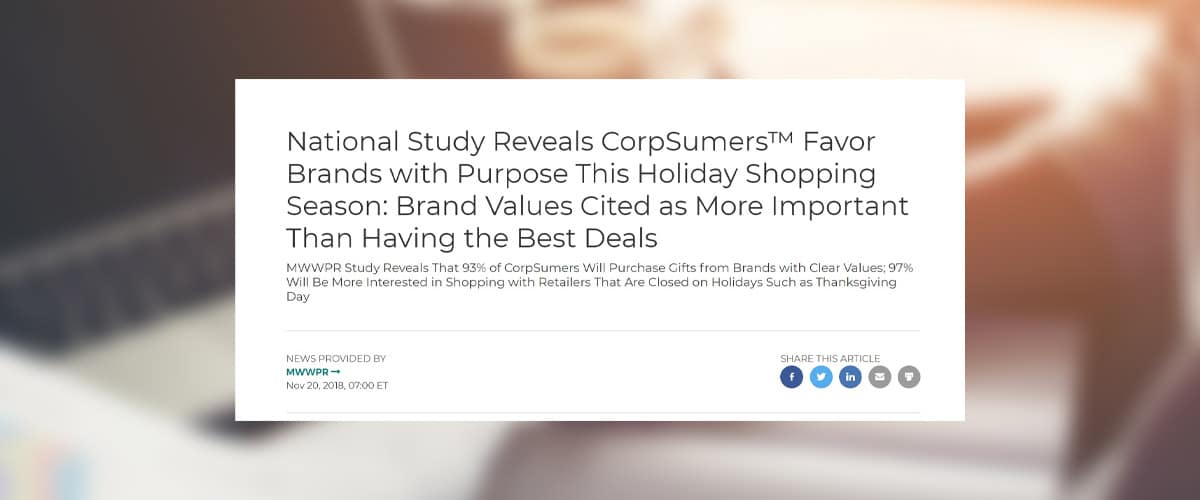 MWWPR Study Reveals That 93% of CorpSumers Will Purchase Gifts from Brands with Clear Values; 97% Will Be More Interested in Shopping with Retailers That Are Closed on Holidays Such as Thanksgiving Day
NEW YORK, Nov. 20, 2018 /PRNewswire/ – A growing segment of the population plans to vote with their wallet this holiday shopping season, favoring brands with strong corporate values over getting the best deal. First identified by MWWPR in 2017, these CorpSumers base their loyalty and purchasing decisions on companies' reputations rather than just product features and price.
On the heels of its second annual CorpSumer study, MWWPR and Wakefield Research conducted a follow up survey about holiday shopping plans to determine if CorpSumer values and behaviors carry over into the traditionally discount and deal-centered holiday shopping season. The results overwhelmingly indicated that brands' shared values and stances on societal issues will be a litmus test for CorpSumers when they select holiday gifts; with more than 3 out of 4 (76%) indicating that they will select holiday gifts based on whether the brand or the retailer have values similar to their own.
'The results of this survey indicate a significant shift in the mindset of shoppers as they embark on the busiest shopping season of the year, with values and purpose eclipsing deals as a top priority,' said Carreen Winters, MWWPR's Chairman of Reputation and Chief Strategy Officer. 'While the general public is highly oriented around bargains during the holidays, CorpSumers, who represent more than one in three Americans, define value based on brand purpose-not dollars. CorpSumers have consistently demonstrated a willingness to pay more for brands that share their values, and this study shows that this behavior applies to their gift-giving, not just personal purchases. Whether shopping in stores on Black Friday or Small Business Saturday, or online on Cyber Monday, CorpSumers will reward the brands that have authentically demonstrated their purpose this holiday season.'
Key findings of the study include:
This holiday season, CorpSumers will shop for company core values, not price.
Over 3 in 4 (76%) CorpSumers will decide where they spend their money on gifts based on whether the company has similar values to themselves.
When shopping for gifts, the majority of CorpSumers (57%) strongly consider whether a company has clear values and takes a stance on important societal issues to be more important than companies offering the best deals.
An overwhelming 93% of CorpSumers will likely purchase their holiday gifts from companies that demonstrate their values and take a stance on societal issues.
MWWPR's second annual CorpSumer study (October 2018) revealed that CorpSumers place a high premium on employee wellbeing, citing 'treatment of employees' as its number one criteria for forming an opinion about a company. Not surprisingly, CorpSumers overwhelmingly indicate that they will reward companies who respect holidays and family as a priority, with 97% of CorpSumers indicating that they would be more interested in shopping with companies who are closed on holidays like Thanksgiving Day over those who open with great deals.
SURVEY METHODOLGY
The MWWPR CorpSumeru2122 Research Study was conducted by Wakefield Research among 500 US CorpSumers ages 18+ between November 13, 2018 and November 15, 2018, using an email invitation and an online survey. The margin of error for US CorpSumers ages 18+ is +/- 4.4 percentage points at the 95% confidence level.
ABOUT CORPSUMERS
First identified in 2017 by MWWPR, CorpSumersu2122 are defined as consumers who base their loyalty and purchasing decisions on companies' reputations rather than just product features and price. CorpSumers are a growing segment, currently estimated at 35% of the US population, a rise of 2% in just one year. Equal parts advocate and objector, CorpSumers use shared values as their primary criteria for judging companies and brands, and are actively influencing others by sharing their opinions both for and against brands. In MWWPR's 2018 study, CorpSumers indicated a strong preference that brands 'take a stand' on matters of societal importance and public policy. 90% of US CorpSumers are more likely to try a company's product and 80% are willing to pay more for a product from companies that take a stand. 43% of CorpSumers prefer a company to take a stand on an issue, even if it does not align with their own point of view. CorpSumers are a larger segment in the US than Moms or Millennials, and cross generations from Baby Boomers to Gen Z.
ABOUT MWWPR
Thirty-two-years young, MWWPR has gone from one employee in one room with one client to among the world's leading independent, integrated PR agencies with nine offices across the US and the UK. Guided by data and powered by insights, intellect and human instincts, we uniquely deliver on a people-first, client-centric promise that leans heavily into a digitally-led, content-driven approach. Our mission is to get to the heart of the matter: igniting influence and impact to help organizations matter more to those who matter most. Our expertise spans Consumer Lifestyle Marketing, Corporate Communications and Reputation Management, Public Affairs, Crisis and Issues Management, Media, Technology, Fintech and Telecoms. Visit www.www.mww.com or follow us @MWW_PR to learn more.
ABOUT WAKEFIELD RESEARCH
Wakefield Research (www.wakefieldresearch.com) is a leading, independent provider of quantitative, qualitative and hybrid market research. Wakefield Research supports the world's most prominent brands and agencies, including 40 of the Fortune 100, in 70 countries.