What the UMG Ruling Means for Your TikTok Marketing Strategy
What the UMG Ruling Means for Your TikTok Marketing Strategy

A lawsuit filed by Universal Music Group against the brand Bang Energy in April 2021 set into motion one of the most important verdicts in the modern era of TikTok marketing. The lawsuit sought to clarify if Bang Energy's TikTok marketing strategy, which facilitated 140 ads that used songs from artists such as Mariah Carey, Justin Bieber, and Dua Lipa infringed on UMG's copyrights, or whether these pieces of content were covered by the user-generated content licenses. The lawsuit also addressed whether the influencers who were hired by Bang Energy to create branded content on Tiktok using their personal channels indirectly infringed on UMG's copyrights as well.
On July 16th U.S. District Judge William Dimitrouleas of Florida finally came to the decision that Bang Energy's TikTok marketing strategy did, in fact, infringe on Universal Music Group's copyrights by posting TikTok ads. On the other hand, the court found the influencers they paid to make content for their own pages did not infringe on the label's copyrights as they were covered by the user-generated content licenses. The ruling highlights just how fine a line brands walk on social media platforms like TikTok when using music and copyrighted sounds in their social media branding strategy.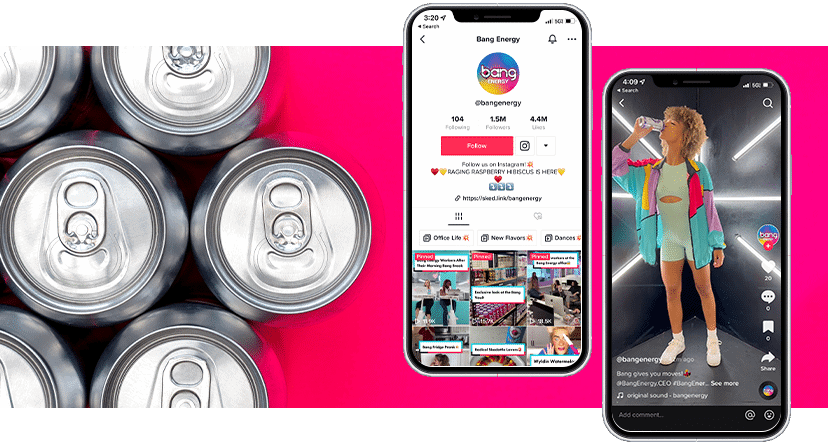 Sound and music are critical components for brands curating successful TikTok content. TikTok's own 'Evolution of Sound' series, noted that 9 out of 10 users view sound as being vital to the TikTok experience. TikTok's study even found that brand linkage and recall increase by over 8x when distinctive brand sounds are leveraged in ads.
Although sound and music are undoubtedly a critical thread linking great TikTok content to virality, engagement, and follower growth – brands need to be mindful when utilizing music and sound by researching the potential legal risks around copyright infringement. To help brand marketers navigate this unclear copyright landscape, we broke down 4 tips to keep your brand leaning into the culture of sound on TikTok:
Tap into TikTok's 'Sound Partners' Program:
In October 2021, TikTok launched its 'Sound Partners' program with a library of pre-cleared production and commercial music for brands to use for their Tik Tok marketing strategy and content. The company's sound partners offer audio in two categories: custom sound and subscription sound. Custom sound partners include KARM, MassiveMusic, and The Elements Music, which help brands create custom tracks and sounds. On the other hand, the subscription element of the program allows brands to tap into the music catalogs of Epidemic Sound, Songtradr, and UnitedMasters, which together boast a collection of well over a million tracks. These partners offer pre-cleared music on monthly, yearly, or project-based licensing plans. Both sides of TikTok's 'Sound Partners' program look to eliminate the friction that brands experience when trying to negotiate synch licenses.
For companies whose social media branding strategy includes posting on TikTok at least once a day, leveraging this available catalog of pre-cleared music can allow your brand to act as cultural A&Rs championing great emerging music that contains similar lyrical and rhythmic elements to the hit tracks consumers know and love.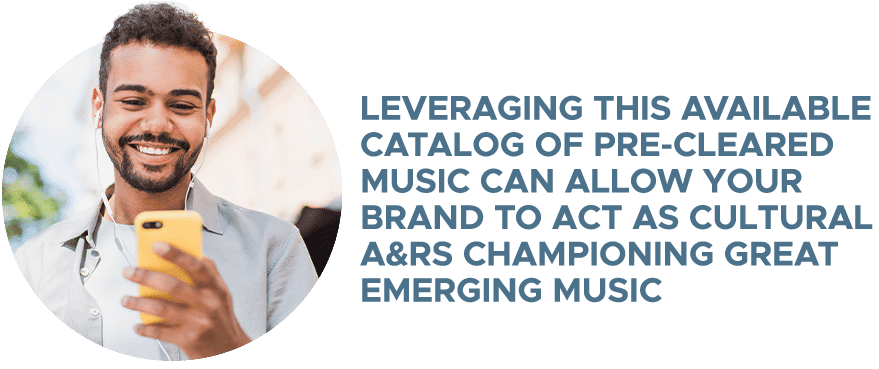 Put Aside Big Budgets to Clear Popular Music:
Synching hit records is an expensive form of branded content on Tiktok. For context, a synch of a top 40 song may cost anywhere between $100,000 u2013 $300,000+ for both the use of the Performing Arts and Sound Recording copyrights. Synch prices vary, depending on the type of visual media being used, the duration of the synch usage, the territory of the synch, the nature of the synch usage, and the length and segment of the song used. To make matters more complicated, many of today's top songs trending on TikTok have multiple copyright holders, particularly on the composition side of the copyright. This means that even if your brand has the budget to clear a song for your TikTok marketing strategy, a single copyright owner can strike down an agreement should they not agree with the usage of the song or the terms of the agreement.
Brands looking to license this level of music for their TikTok marketing strategy should work with a synch agent to navigate the communication between multiple rightsholders or choose songs with limited copyright holders to streamline negotiations. For example, Tommy Hilfiger recently licensed the Performing Arts copyright of Bruce Springsteen's 'Dancing in The Dark' for their Classics Reborn campaign. With only one writer as the main copyright owner, the synch was more streamlined to negotiate which allowed the brand to put more time into crafting Shawn Mendes' cover of the song and link it to the creation of the social media branding strategy across TikTok, YouTube, Instagram, and Facebook.
Leverage Public Domain Music and Sounds:
Copyright protection is not in perpetuity. In the United States, copyright production grants the author of the work their lifetime plus 70 years to exploit copyright. Once that term has ended, copyright moves into the public domain in which it can freely be used by any creator or corporate entity. For brands looking to more seamlessly license music or sounds, exploring works in the public domain and refreshing them for today's younger sound is both an easy path for licensing and a unique way to connect with an audience that may be familiar with the original work on a global scale.
For example, in 2020 e.l.f Cosmetics used songs in the public domain to drive their holiday campaign and merchandise. The brand took holiday classics such as 'Deck the Halls', 'Jingle Bells', and 'Auld Lang Syne' and remixed them to make the e.l.f Holiday Album. The remixed public domain songs laid the foundation for the brand's TikTok and Triller campaign content, which generated more than 40 million views according to creative agency, Movers + Shakers.
As brands think about leveraging music in their TikTok marketing strategy, mining content that is listed in the public domain can be a great way to navigate through licensing complications around music controlled by copyright owners.

Invest in Creating a Brand Owned Catalog of Sounds and Music:
Licensing music is a challenge, no matter if it is a one-stop shop clearance or a hit record with multiple rights holders. As brands continue to pump out content — especially on TikTok — owning a library of music, sounds, and broader compositions are becoming more and more popular for brands as their content demands continue to increase. For example, MasterCard just released a full-length album titled, Priceless, which the brand can use across its various touchpoints including TikTok.
Brands like Arby's took owning songs even further for a campaign to promote their fish sandwich, which enlisted rapper Pusha T to write a diss track against McDonald's competitor product filet-o-fish. To promote their new hangover product, Alka-Seltzer u2013 a brand that fully owns their iconic brand jingle with the unforgettable lyrics of 'plop-plop, fizz-fizz, oh what a relief it is' — leveraged the flexibility of ownership to create a derivative work of the song with R&B artist T-Pain.
As music and more broadly sonics fuel the virality occurring on TikTok, securing a library of owned content not only gives the brand the flexibility to use the sound for the life of the copyright but the power to leverage it freely across all their various digital touchpoints without the kind of legal hassles that inevitably hamper the creative process.