Why Data Privacy Should be a Critical Component of Any Startup's Brand Messaging Strategy
Why Data Privacy Should be a Critical Component of Any Startup's Brand Messaging Strategy

Since the start of the pandemic, the rate of adoption of new technologies has accelerated by more than seven years ahead of market projections. Savvy tech companies have seen explosive growth as consumers and businesses incorporate more digital solutions into their daily lives. But there is a darker side to this digital progression that threatens to undermine the industry's recent success-unprotected data.
Data privacy has always been a chief concern in both consumer and corporate circles. People, including employees, are demanding control over the use of their personal data and more transparency into how companies plan to manage customer information. Add to this the fact that every brand now harnesses incredibly large data sets about employees' data use and you can see why protection is so important these days.
If data is the currency of tomorrow, then ensuring data protection is your key to user buy-in. In this blog, we'll go over what data privacy means for your business and why data security is vital to any tech startup's brand message strategy.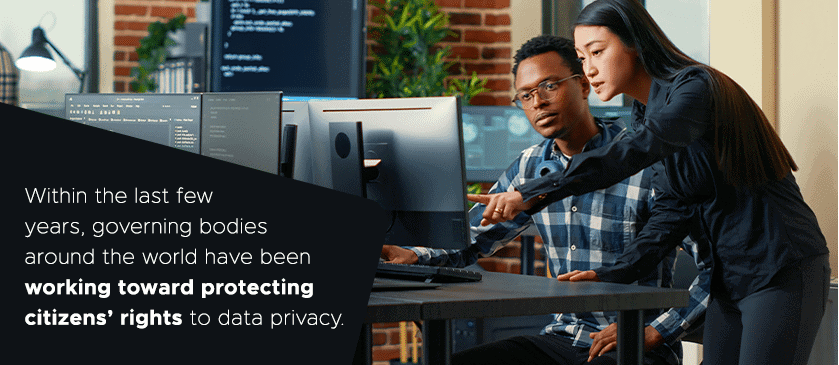 From Trending Topic to Basic Human Rights
For the last decade, the issue of data privacy has been buzzing around political arenas, making international headlines every so often with a high-profile exposu00e9 or consumer report. But within the last few years, governing bodies around the world have been working toward protecting citizens' rights to data privacy.
In 2018, the E.U. issued a set of data privacy laws under the General Data Protection Regulation (GDPR) which protects citizens in the European Union from unauthorized data processing. Under the GDPR, people in the EU must opt-in to allow corporate data collection, meaning companies can't process personal data without permission.
As of 2022, U.S. states Colorado, Virginia, Connecticut, Utah, and California are protected under consumer privacy laws. These laws constitute that people in these states have access to personal information and are able to opt-out of the sale of this information at any time. Countries like Japan, New Zealand, Israel, and Brazil have recently enacted comprehensive data protection laws similar to Europe's GDPR, with more countries expected to follow suit in the coming years.
Demanding Disclosure
While the U.S. does not currently have any federal data privacy laws, consumers are taking matters into their own hands by insisting on data usage disclosure. Gone are the days when companies could collect, analyze, buy, and sell user information at will with none the wiser. Customers are not only demanding data transparency but guaranteed data security.
As business goes virtual, threats to data security are multiplying. Cybercriminals are fast-moving and sophisticated-they can breach a company's security gateway in a matter of minutes, while enterprise security teams spend an average of 287 days locating and containing these breaches.

People want to feel as safe online as they do at home. Violating consumer or client trust by allowing personal information to pass into the hands of bad actors can have detrimental effects on brand image.
Building Trust Through Transparency
With governments cracking down on data privacy and customers growing wary of company data usage, how should your startup proceed into the future of digital commerce? By establishing trust early on.
Companies that establish trust from the get-go can nurture meaningful relationships with customers-relationships that will eventually lead to increased lead development, greater brand loyalty, and a higher return on investment. Here are some ways your brand can build trust around data privacy and establish a strong security message strategy:
Make Your Privacy Policy Known
Display your brand's privacy policy front and center so site visitors have immediate access to your data management statements. Whether your customers read privacy statements or not, making your policy readily available ensures that customers feel acknowledged when visiting your page.
Talk About Data Security
If your startup handles private data, you need a security plan. According to a recent study, only 50% of U.S. businesses have a cybersecurity plan in place. With the impending danger of cyberattacks increasing every day, you can't afford to be caught in the dark.
Work with corporate leaders and IT to establish a cybersecurity risk management strategy. Your plan should include a detailed risk assessment and the people, processes, and technologies most vulnerable to an attack. After you've formed a solid security strategy, let people know. Consumers will feel more comfortable sharing information with a brand that is dedicated to safeguarding their data. Make data security a central component of your brand message strategy.
Audit Your Data
This one might seem obvious, but it can be challenging for businesses to be actively mindful about where they source their data. Data collected from non-reputable sources can land you in hot water-something you can't afford as a startup.
Ask yourself, where did this data originate from? What is the condition of the data, or its grade? How many hands has this data passed through? Does this data meet all relevant regulations? Are you sure this data wasn't bot-generated?
Answering these questions will give you a better understanding of the state of your data. The more robust the data, the more accountability you build with end-users.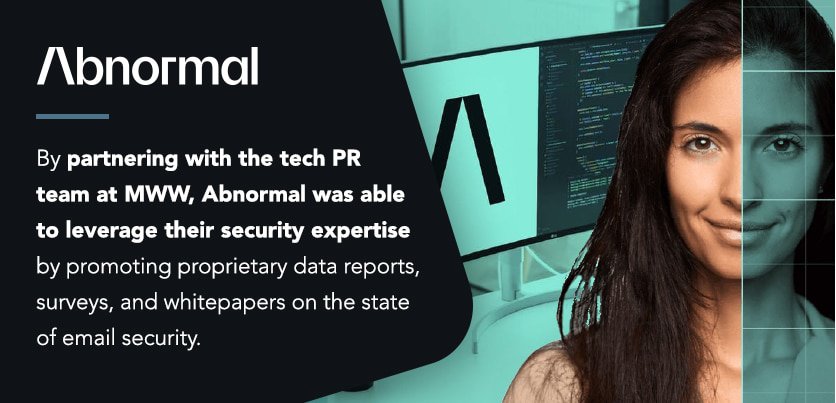 Abnormal Security-A Case Study in Credibility
Abnormal Security Corporation is a web-based security organization that specializes in protecting businesses from email attacks, including business email compromise, credential phishing, ransomware, and spam.
Abnormal has been leading the industry in cloud-based email security, with decades of AI and ML experience by veterans from Google, Twitter, Pinterest, and Amazon. Leading up to a round of Series C Funding, the company wanted to further boost awareness and brand recognition.
By partnering with the tech PR team at MWW, Abnormal was able to leverage their security expertise by promoting proprietary data reports, surveys, and whitepapers on the state of email security in enterprise organizations. Their findings on data security were amplified by news reports and social media posts, further driving brand credibility through earned media.
Abnormal was eventually awarded $210 million in Series C funding, resulting in Unicorn status. This campaign remains a prime example of how a tech brand can use data security in its message strategy to promote trust with its audience.
The Bottom Line
Yesterday's security protocols won't work for today's brands. Garnter Predicts 2022 reports that traditional approaches to cybersecurity training and education are failing to create a culture of secure digital business practices among employees.

Without a strong cybersecurity practice in place, promoting messages about data privacy simply won't work. In order for you to protect your business, and your clients, from dangerous data breaches you need to establish a program of employee cybersecurity collaboration. Security advisors can be extremely helpful in providing customized frameworks for risk identification and mitigation within your company.
Perfect Your Brand Message Strategy with MWW
We understand how important it is for tech startups to communicate their solutions in a way that resonates with audiences. The MWW tech team is versed in SaaS, B2B, enterprise, cloud security, fintech, venture-backed start-ups, media, and consumer technology.
Our rich understanding of the tech industry makes us the partner of choice for software, systems, hardware, streaming, and virtual experience companies. MWW teams create and tell differentiated stories that resonate with diverse audiences and decision-makers to help our client partners accelerate their growth. To learn how you can perfect your tech brand's messaging strategy, connect with our team.